---
It's one of the most important parts of getting the best cell phone plan.
Coverage.
Now, you can check your coverage across multiple networks in seconds. This is the only place on the internet where you can compare both carrier plans and networks in the one search. We match plans and carriers to your location, ensuring that you have personalized comparison results to get the right plan. Here's how we do it (below)
How to Compare Your Coverage, Instantly
Coverage checking is simple and fast..
Start at our homepage and enter your location (we check any location in the US)
Enter your plan needs and click "Search"
Matching carriers and plans are shown for your location
Review your results and view the coverage maps across each carrier
---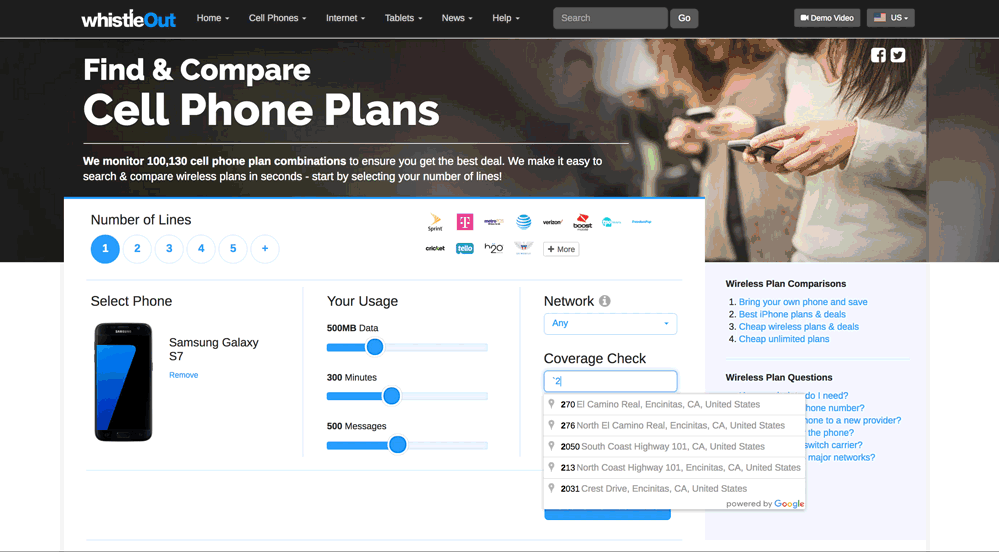 Checking coverage at an address in Encinitas across Sprint, T-Mobile, Verizon and ATT networks
It takes just a few seconds for us to check all carriers at your location to find you the best plans for your usage needs. If a carrier can't provide coverage at your location, we'll remove that carrier from the results.
Even though there are four main networks the site also shows plans from a variety of smaller carriers—known as MVNOs—that rent space on the networks of the major carriers. If 4 networks can cover you, you'll get comparison options from over 30 carriers! Companies like Straight Talk Wireless and Cricket provide the same great coverage as their big brothers, but charge customers a fraction of the price.
Compare Networks & Carriers to Find the
Best Cell Phone Coverage
When comparing cell phone plans, it's so important to have a list of your "must-haves" at the ready. Price is one thing but as consumers, we're always going to be okay with paying for what we get. If we get all of our "must-haves", then forking over a few extra bucks is always okay. Coverage is a huge concern for so many cell phone costumers, so you're completely in the right to want to check and double check that you're receiving the best possible coverage.
In addition to comparing the coverage maps in the U.S. right here, be sure to read our guide on who we think has the best coverage. Another great guide is about how your phone affects your cell phone coverage. It's true! Your cell phone might actually affect the kind of coverage you get.
Understanding Coverage: Is Biggest Best?
There's no doubt that the biggest coverage map is the most impressive to look at. Today, that award is clearly with Verizon Wireless although T-Mobile has Verizon in its sights. However, if there are many parts of the country that you are never going to travel to, then that bigger coverage is irrelevant - it's the coverage in your area that counts - that's what we look up in our search engine, giving you personalized results.
Coverage in all corners of the country is irrelevant unless you are in all corners of the country. Carriers tend to build their networks where people are, which is the smart thing to do. So if a carrier claims 98% coverage in the USA, it means that they cover 98% of the population based on where they live, not 98% of the land mass of the USA. It does sounds like a trick in the wording, but the reality is that the carriers need to put the most effort into where we spend most of our lives, not building towers in the middle of Death Valley.
AT&T National Coverage Map: Comparison
Sprint Network National Coverage Map: Comparison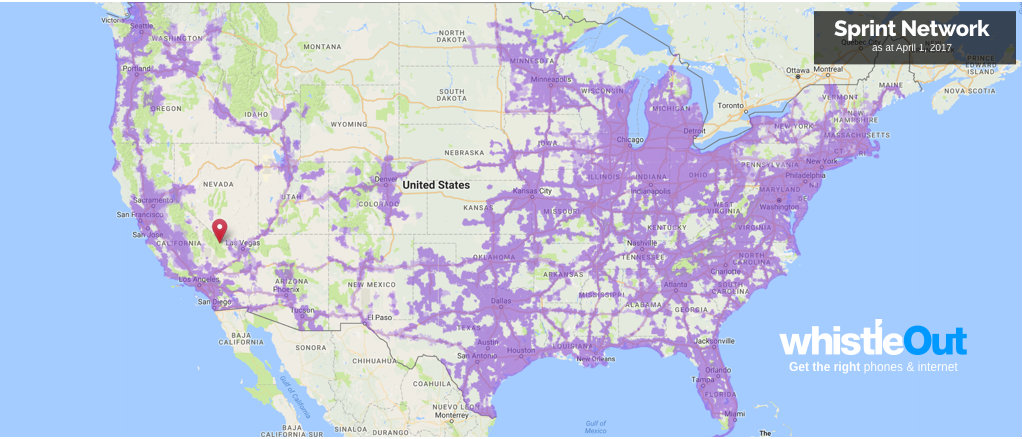 T-Mobile Network National Coverage Map: Comparison
Verizon Network National Coverage Map: Comparison
Ready to get started? Have we got you thinking about whether you are on the right plan? It's easy - find the perfect cell phone plan here
Compare Carriers to Find the Perfect
Cell Phone Plan
---