---
If you're on an MVNO, or thinking about signing up with one, you probably already know that they offer some of the best deals in the wireless industry.

Mobile virtual network operators--MVNOs for short--are carriers that rent space on larger networks. They come in all shapes and sizes, and unique value propositions.
An easily overlooked consideration when shopping for a MVNO is whether it runs on a network that a) has good coverage where you spend the most time, and b) works with your phone type, if you're bringing a device along with you.
The following is a list of MVNOs and their affiliated networks, so you can know your coverage options before you sign up. Be sure to keep reading to see the overall coverage maps for the four majors.
Now that you know which MVNOs belong to which networks, the next thing to consider is how comprehensive the coverage is on those networks.
Looking at the United States as a whole, it becomes immediately apparent that Verizon covers the most territory, followed closely by AT&T. Next is T-Mobile, and pulling up the rear is the Sprint network.
Verizon Network
When it comes to sheer network scale, Verizon is king. Their network will keep you connected from almost anywhere in the United States. If coverage is important to you, choosing an MVNO that runs on Verizon is not a bad idea.
AT&T Network
While Verizon's network rules the land, there's no denying the potency of AT&T's coverage either. It's only a few clicks below Verizon in terms of overall area covered in the United States, making it a great option if you're located in a rural region or do a lot of traveling. Fortunately, there's no shortage of MVNOs running on AT&T's network.
T-Mobile Network
While T-Mobile's network can't boast the overall expansiveness of Verizon's or AT&T's, it's known to be quite strong--even, sometimes, the best--in metropolitan regions. A number of MVNOs run on T-Mobile.
Sprint Network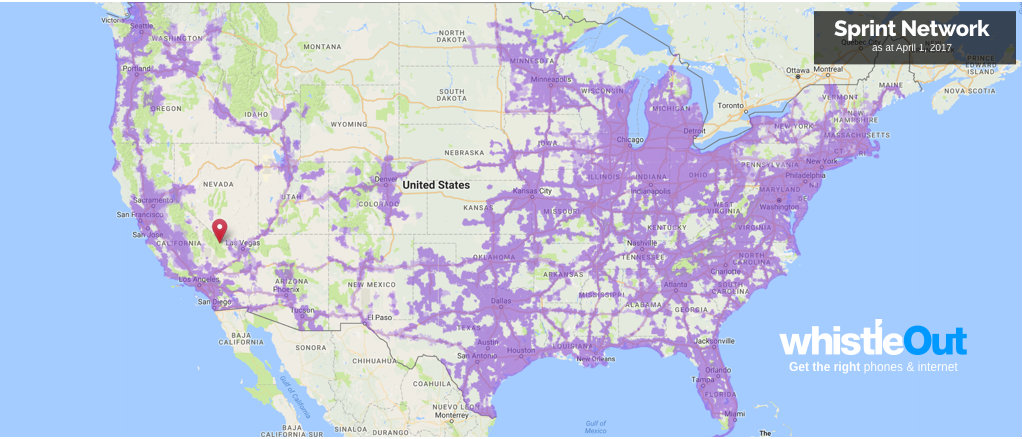 The Sprint network may show less purple on the map than the other big networks, but it's no slouch in many populated regions, including the eastern seaboard, the upper midwest, and Southern California. There are more MVNOs on Sprint than any of the other networks, including big names like Virgin Mobile (a Sprint subsidiary) and Boost Mobile.
It would be a mistake to use these maps as the sole metric by which you choose your carrier, though. Sprint or T-Mobile may very well provide the best coverage in the places you live, work and recreate; to find out your best coverage options, type your address into our coverage check tool, and we'll filter out any carriers that provide substandard coverage. Click back over to the above list to find out which networks they run on.
Ready to get started? Find the perfect cell phone plan here.
---